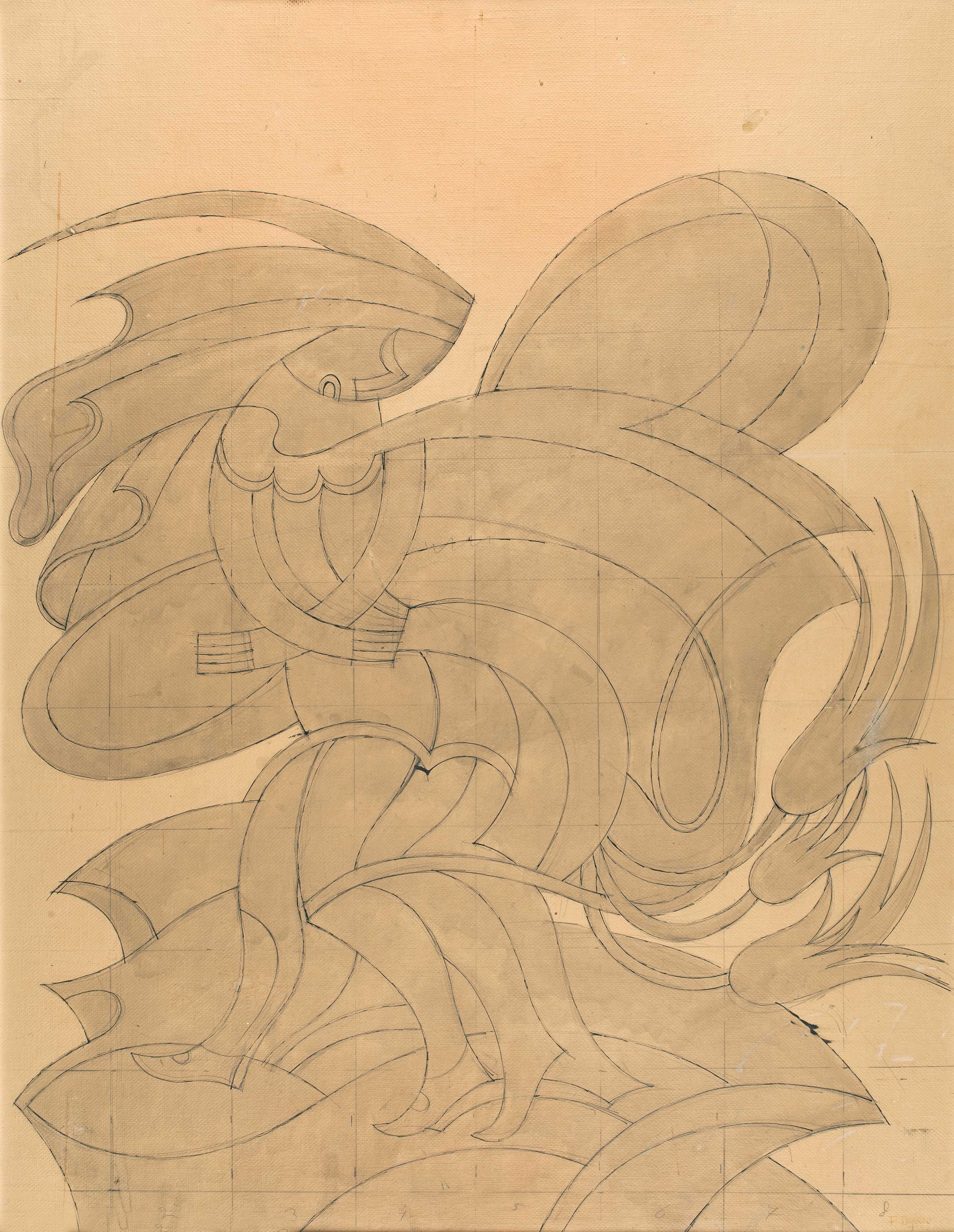 Fortunato DEPERO
(Fondo 1892 - Rovereto 1960)
Gust of Wind, 1946
Pencil, watercolour and Indian ink on paper laid down on canvas
1100 x 840 mm
Signed lower right: F. Depero
Bibliography:
88° Mostra Depero pittura & arte applicata 1915-1951. Prima presentazione di pittura nucleare, Rovereto, , August 11th, September 11th, 1951.
94° Mostra Depero, Trento, Spring 1953.
G. Ruggeri, Magica allegria di naufragi. Fortunato Depero(1892-1960), Bologna, Edizioni Marescalchi, 1983.
Mazzoleni Arte, Depero dal primo Futurismo agli anni Cinquanta, Exhibit catalogue, Milan, Mazzoleni Arte, 1985.
M. Scudiero, Depero.L'uomo & l'artista, Rovereto, Egon, 2005.
F. Velardita, Fondo Fortunato Depero: inventario, Rovereto, Nicolodi, 2008.
S. Poggianella, Futurismo 1909-2009: omaggio a Fortunato Depero, Lavis, ElcionEdizioni, 2009.
Description
Fortunato Depero was born in Fondo, in Trentino Alto Adige, in 1892. He moved to Rovereto when he was till very young to enrol in the Elizabethan Royal School, an institution specialized in applied arts. Thanks to an apprenticeship in the workshop of a marble artisan, he developed a great plastic sensitivity that will characterize his entire future production. In 1914 he left Rovereto and moved to Rome, where he got in contact with the Futurist circle of Marinetti, and the following year, he was accepted in the sculptors and painters Futurist group. In 1928 he went to New York in order to set up several personal exhibitions, where in 1929 he endorsed the Manifesto dell'Aeropittura Futurista (Futurist Aeropainting Manifest). The following year he returned to Italy where he kept displaying his works in copious important manifestations, such as the Biennale of Venice and the Quadriennale of Rome. In 1947, he went back to New York but the city – by then changed – was now quite hostile to the Futurist movement, and it did not welcome his art with the same enthusiasm. In 1949, once back to Italy again, he permanently settled in Rovereto, where a museum in his honour was founded. At the end of the Fifties, he abandoned both painting and the nuclear plastic Manifest.
Fortunato Depero, generally included among the leading figures of the "Futurist's second generation", had however distinguished himself for his singular style, or rather for having accomplished audacious researches through diverse expressive languages.
His pictorial activity continued to be interpreted also in the second post-war period, where he did not propose new stylistic solutions but rather reconsidered past expressive modus operandi and themes. In Gust of Wind the structure of the composition brings back to light the movement analysis and dynamism of the Futurist movement. Fortunato Depero particularly enjoyed this theme because it was his means to obtain the lyrical synthesis of the wind, that is a natural dynamic force. Since 1915, the artist achieved the vision of the general motion of things (water, flowers, etc.), whereas the image of the wind became concrete only in the second half of the Forties through several drafting of Colpo di vento (Gust of Wind) and Strappo di vento (Rip of Wind). Likewise the light, the sound or the lighting, the wind as well formed an expression of dynamism and it therefore had to be materialized. In his 1953 exhibition catalogue the artist wrote: « Gust of Wind is a 1947 oil painting of mine, in which a feminine figure was whirled by the wind, between garment and turns of sky; moulded within a vitreous air shell of painting waves [...]» (94° Depero Exibit, Trento, Spring 1953, p. 31).
The paper under examination could be considered as a "planning drawing", or rather conceived to transfer the image on canvas; a genre that Depero realized quite often in order to find the desired constructive degree for the oeuvre.
One of the first Gust of Wind drawings was realized in 1946 (cfr. Ruggeri, 1983, n. 52; Mazzoleni Arte, 1985, p. 34); to this drawing followed another painting (cm 50 x 60) dating 1947 and belonging to the William Hillman Collection of Washington, which was first exhibited in Rovereto at the 88° Depero's Exhibition of 1951 (88° Mostra Depero pittura & arte applicata 1915-1951. Prima presentazione di pittura nucleare, Rovereto, August 11th, September 11th, 1951, tav. 28), and then at the 94° Depero's Exhibition of 1953 (cfr. 94° Mostra Depero, Trento, Spring 1953). An oil on canvas of smaller size (cm 42 x 45) was also realized in 1947 (cfr. Scudiero, p. 558); then, the tempera on cardboard (cm 80x100) also has an analogous dating (cfr. Ruggeri, 1983, n. 53); finally, an additional work, dating 1947, is an oil on board now preserved at the Mart of Rovereto (cm 114,5x90). The several Gust of Wind drafts were realized on different supports (paper, cardboard, board, canvas) highlighting the experimental will prevailing in the whole Depero's production. The various works of art differ one from another either in minor details or in the chromatic choice. The Gust of Wind composition has a structure that recalls the 1947 oil on board preserved at the Mart, which is the reason why this drawing could be considered of analogous dating.