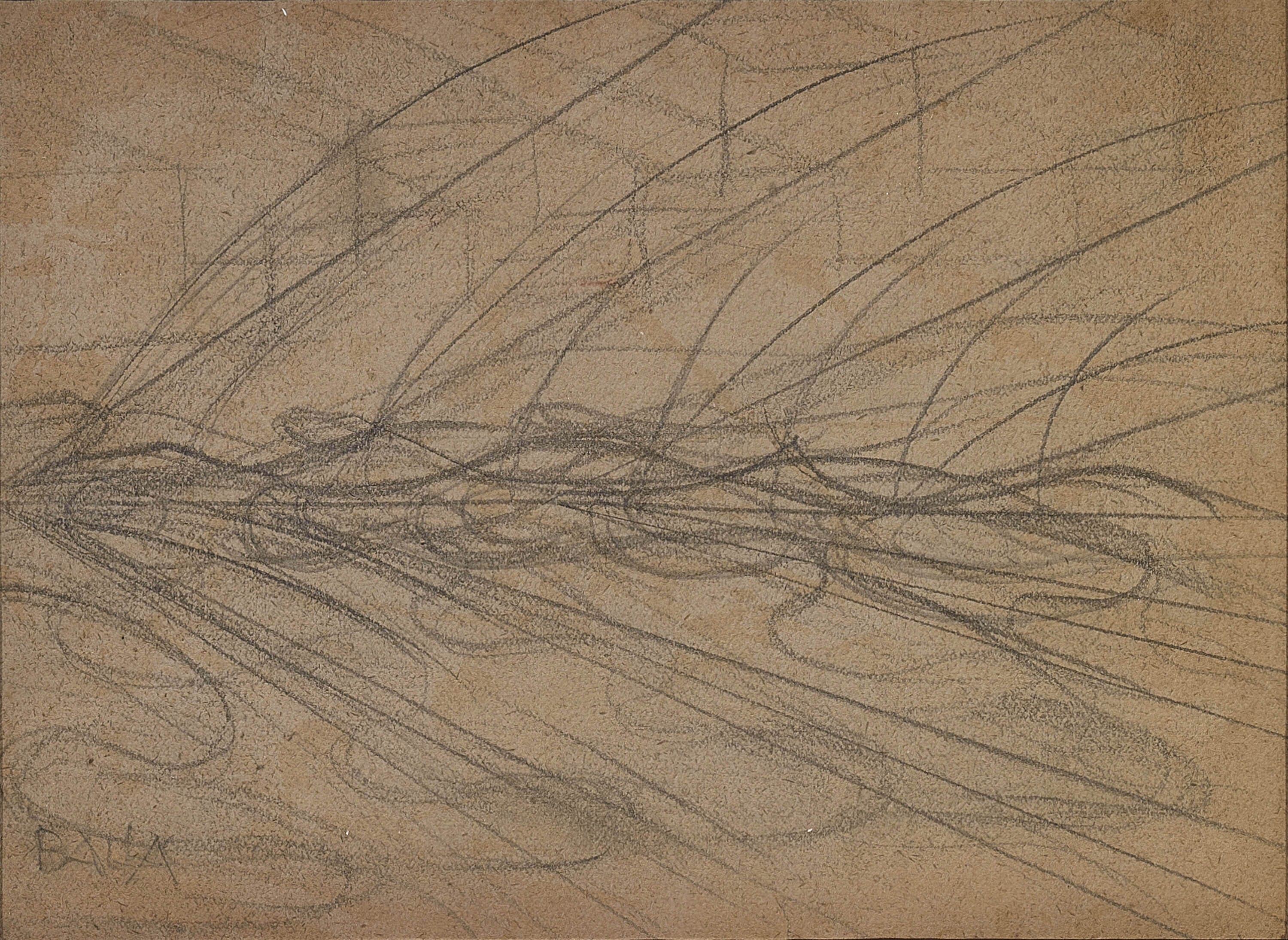 Giacomo BALLA
(Turin, 1871 – Rome, 1958)
Studio di motocicletta in corsa,1913
Pencil on paper, 12.7 x 17.3 cm.
Signed bottom left in pencil in block letters: BALLA
Provenance: Casa Balla, Rome (Agenda n. 1271: studio di motocicletta in corsa). Volpi ownership, Rome [report from Luce Balla]. Private collection, Rome [1989]
Expertises: Elena Gigli, Rome 10 February 2016.
Exhibitions:
Casa Balla e il Futurismo a Roma, Accademia di Francia – Villa Medici, Roma, October 1989
Bibliografia:
Casa Balla e il Futurismo a Roma, curated by E. Crispolti, catalogue of the exhibition, Accademia di Francia – Villa Medici, Rome, 1989, p. 187, n. B/10, illustrated
Description
Everything moves, everything races, everything gets quicker. A figure is never stable before us, but ceaselessly appears and disappears ... [...] Gesture, for us, will no longer be a frozen moment in the universal dynamism; it will be, most decidedly, a dynamic sensation eternalised as such... We proclaim that universal dynamism must be rendered as a dynamic sensation, the Futurists wrote in their Manifesto in 1910. In 1913 Balla addressed the issue of the disintegration of bodies caused by movement and by light, as proclaimed in the technical manifesto of Futurist painting: we proclaim that motion and light destroy the material substance of bodies; thus taking cue from an analysis of the speeding motor-car he reached the dynamism of the line of speed in 1914, which he himself called the fundamental basis of my thought forms.
It was in these years that Balla completed his research into movement by taking his cue from another objective given: the noise of a motorcycle moving at speed, which he heard during a tour in the sidecar of a motorbike belonging to a motorcycle enthusiast friend of his (from E. Balla, Con Balia, Milan 1984, pag. 312), where "silvery metallic colours in pointed and serrated cogwheel shapes give you the feeling of the crackling roar of the motorbike, against green backdrops, sensations of colours in green fields after the first rains of autumn". At the current stage of my studies I have catalogued only five studies that Balla produced ahead of the large oil painting entitled Shapes Noise Motorcycle (70 x 100 cm.) recently purchased by the Kroller-Muller Museum in Otterlo. The first of these is precisely the one under discussion here, where we find the elongated figure of a motorcyclist (we can see his oval head) which is multiplied from right to left in its penetration of space, in the movement of the wheels that multiply in the lower part of the sheet. The signature bottom left, also in pencil, highlights the fact that it is a 1913 original. In his subsequent studies (again in black pencil, then blue pencil, and right on up to brown paint on large pieces of paper 68 x 97 cm.), the silhouette of the motorcyclist become thinner and thinner until it disappears in the verticism of the motorcycle's wheels and gears.
The work comes from Balla's home, where his daughter Luce listed it under number 1271 in her catalogue as a Study for a Motorcycle in Motion owned by Volpi in Rome. It was shown by E. Crispolti in the exhibition that he devoted to Futurism in Rome in 1986 (Académie de France à Rome Villa Medici).
Elena Gigli